Meetings & Events | News & Updates
---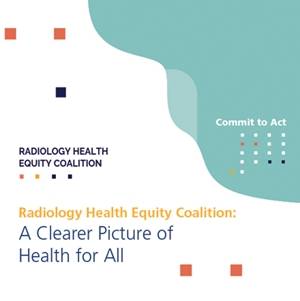 Every day in America, thousands of life-changing diagnoses start with a radiological image: a tumor, a polyp, a blocked artery or valve. But research and our own experiences and screening statistics show that too many people aren't getting these images taken in time — or at all.
The Radiology Health Equity Coalition is addressing systemic challenges to more equitable imaging care and reducing health inequities for people of color, rural populations and other underserved communities.
Access the RHEC Membership Brochure to learn more.
Ten major radiology organizations are collaborating in the formation of the Radiology Health Equity Coalition to positively impact health care equity in the radiology arena and beyond. While disparities and inequities in health care have been evident for many years, the COVID-19 pandemic has magnified the disproportionate numbers of people of color and rural residents in the U.S. affected by barriers to care.
The Coalition, convened by the American College of Radiology, includes the American Board of Radiology, American College of Radiology, American Medical Association Section Council on Radiology, Association of University Radiologists, National Medical Association Section on Radiology and Radiation Oncology, Radiological Society of North America, Society of Chairs of Academic Radiology Departments, Society of Interventional Radiologists, Society of Nuclear Medicine and Molecular Imaging and American Association of Physicists in Medicine, with specialty and state Radiology organizations already joining the initiative.
This network of patient-focused radiology societies will collect, assess, and disseminate resources and best practices, advocate for and connect with patients and community members, and collaborate on programs and services to improve access and utilization of preventative and diagnostic imaging.
Would you like to know more about becoming a Coalition Partner? Download and View the Coalition Partner 1-Pager (.pdf)